3/28/07
Oh my goodness ~ could a year have possible gone by? Where did the time fly? Natalie has grown so very much in the past year, it's so hard to imagine her as we received her one year ago today. She is a little whirlwind, running and laughing, singing and dancing! She is the light of our lives. Though still a peanut, don't let that fool you. So can bring you to your knees with a well placed shoe, a belly laugh, or a sweet "I ya you". She continues to surprise us daily. This morning, I asked her what her name was and without batting an eye, she replied "Natalie". Smart, or what? She knows her shapes (square, circle and triangle), can count to 3, and A-B-C. What seems like babble to the untrained parent, is really a vast vocabulary. It just takes some cyphering on Mommy & Daddy's part.
Natalie loves all her pets and can be found playing with or laying on any one of them at any given time. We were so afraid that she would be scared of the animals but, in reality, they helped her with her transition into our family. They were safe, when her world was upside down. They offered unconditional love and did not ask anything in return. She could hug them, kiss them or just snuggle. They were her rock until she figured out that Jon and I were ok. Now, we get the hugs, kisses and snuggles, too!
Our world is a much brighter place with her in it.
(Be sure to check out the latest photos of Natalie. There is a link on the Home Page.)

12/06/06

I want to apologize for not posting in a long time. Things are busy, busy, busy here. Natalie is such a joy. She never stops. This kid has more energy in her little finger than I do in my whole body! She had her first real cold and is just starting to feel better. It was so sad to see her looking so miserable and not be able to do much to make her feel better. Thank God she is finally eating and drinking again, it was touch and go for a while.

Thanksgiving was nice, we had dinner with Jon's family in Kalamazoo. Natalie enjoyed all the good food. She has no idea what is in store for her for Christmas! We tried to have her picture taken with the mall Santa. HA! She was nervous about him but when he reached out and touched her hand.....she came un-glued. She was terrified! You could tell that he was a grandpa cuz he was so nice and sweet to her. But Natalie was not having anything to do with him. She did not settle down until we were far, far away from him. We did try again a week later, but still no luck. Oh well, who needs a Santa picture anyway. Christmas is about Jesus, not Santa. And Natalie likes Jesus! We did get Natalie christmas picture taken and, other than her being sick, I think they will turn out really good. I will be mailing pictures out in our cards after they come in on the 15th.

Jon and I are so excited for Christmas this year. Last year, we had thought that Natalie would be home by the holidays. We were devastated when we did not at least have our referral. Christmas came and went but our hearts were somewhere in China. Funny the differance a year can make. We are almost giddy with anticipation. I got non-breakable ornaments for the tree, so Natalie can touch if she needs to. We got her a special dress, which she wore for her picture. And, we were asked if she could play Baby Jesus in the living nativity at church. I said yes, but told them that the really needed to find a younger Jesus, since I do not think Natalie will be quiet or co-operative for the play. She too much of a wiggler.

Well, that's all the time I have for right now. L'il Miss is needing me. Be sure and check out our pictures using the link on our homepage. I try to put new pictures on there whenever I take some.
9/8/06
We are back home after Natalie's surgery this morning. It went well and Natalie is doing good. The doctors came for her and she walked happily off with them into surgery. But coming out was another story all together. The surgical staff nicknamed her "Hurricane Natalie" and they weren't kidding. We were told that the surgeon would come and talk to us as soon as she was done, and that it would be about another 20-30 minutes before we could go back to Natalie. Well, while we were talking to the surgeon, the nurses came to us and said that we could go back to recovery now. As we stepped through the doors to the back, we could hear Natalie letting them know just what she thought of them. She was not very happy!!!! And she let everyone within earshot know it. The poor nurse was trying to hold her and calm her down - HA! Natalie was bucking and twisting so bad the nurse could hardly hold on. She gave Natalie to me and it took about 20 minutes for her to begin to settle down. This was even after Demerol. It wasn't so much the pain as it was that she was PISSED OFF!!!!!!!
Well, now we are home and resting (us, not her). Natalie is playing and, as long as she doesn't rub her eyes, she is doing good. She is being 'Velcro Baby' but that's fine with me......I'm kinda being 'Velcro Mommy'.
Thank you, everyone, for all the prayers and good thoughts today. I know that they helped. I could feel everyone's presence with us and it was a great comfort. Well, gotta go hold my baby. She needs me and I need her. I'll post again soon with before and after photos.
8/23/06
Where does the time go? I can not believe that fall is almost here. Jon starts back to LCC in a couple days. He will be so busy with work and school but I know that he will make a great veterinarian!
Natalie is growing like a weed. She weights 20 lbs and is nicely into 12 month clothes. (Well, she can still wear 3-6 months if they are seperates!) The pediatrician says that she is going to be a very petite little girl. In our family....go figure! Ha-Ha! She is running all over the place, climbing over and crawling around anything that gets in her way. She will eat just about anything you put in front of her.....well, except green olives. Guess Mommy's olive burgers are safe. Someone has decided that baby food is for babies, and since she's not a baby, it's on to grown-up, big girl food. The spicier - the better!
We scheduled Natalie's eye surgery for Friday, Sept. 8th. The dr. said that the procedure will take about 1 1/2 hours. They are going to straighten both eyes (2 muscles on one eye and 1 muscle on the other). She said that this type of surgery has an 80% success rate. Let's hope and pray that we don't have to go through this again - Mommy's nerves can't take it.
We had a cool experience. Through work, Jon was invited to an after-hours, behind-the-scenes evening event at the local zoo. We got to go inside some of the animal buildings and see what goes on there. Inside the tiger house, we got to see up-close, a huge tiger perform tricks. We could almost touch him. Natalie was fascinated with the tiger. She didn't want to leave. Then we walked through the penguin enclosure. It was so neat to have them walk through a cubbyhole out on to a ledge by us. They were so cute! We left there and walked to the vet center. Natalie saw 2 foxes (or 'kitties' as she called them) and wanted to go inside and pet them. Lucky for the foxes, the door was locked. Next, we went by a fenced-in area that had some kind of yak in it. He came over to the fence to see if we had anything for him. I thought Natalie might get scared, but she just stared up at him - maybe trying to figure out why he smelled so bad. The highlight for Natalie was climbing out of her stroller and chasing a peacock. Thank Heavens, the bird moved faster than she could. But she was able to feed a mama peacock and her babies. The daddy just walked around, checking things out. Natalie had a blast! She loves animals so much.
As all "Red-Blooded American" kids will agree, we took Natalie to Ceasarland to experience 'Playland'. At first, she was a little hesitant, but once she got her courage up.....she was off and running. She like watching all the other kids and didn't get nervous when they ran past her. I could tell that she was planning the day when she could keep up with them. I can see that we will be spending a lot of time there.
Well, that's about it. Be sure a check out our photo section (the link is on the Home Page), I added new pictures.
6/26/06
Guess who's walking!!! Yup! Actually, she is trying to run but isn't that co-ordinated yet. We went to grandma's house yesterday and Natalie played in a pool for the first time. She loved it! I put some new pictures in the Photo Link on the home page. Be sure to check them out.
Natalie went to the doctor's for her one year check-up. She weighted 18 lbs. 6 oz. and was 28 1/2 " long. Everything is right on target for a little peanut like her.
6/12/06
Sorry that it has been so long since my last post. Seems like I just did an update - the time is just flying by. I will try to summarize the last few weeks.
Natalie had to see a pediatric eye doctor to evaluate her eyes - they turn in at times. We were referred to a specialist and had the appointment on June 5th. The dr said that Natalie's vision in perfect but since the eyes turn in intermittently and not both at the same time, she does not think that patches or glasses will correct the problem. She says that she suggests eye surgery to tighten the muscles that hold the eyes in place. There is no hurry on this at this time and she said that at this point it would be elective. We are hesitant to subject Natalie this because the surgery would be done under general anesthesia, we are thinking about waiting until she is a little older but we have another appointment in 6 weeks and we will discuss this further with the dr. We were also told that Natalie has no depth perception, hasn't had any since birth but that it would not effect her since her brain is compensating for the loss of depth perception. We do not know, if she has the surgery, whether she will regain this.
On a positive note, Natalie took her first steps to Mommy, with coaxing on May 31st and on June 6th, took steps on her own. Lately she has been a little reticent about walking, it's like she gets a little scared to take that first step. Right now she is up to about 5 steps with out help, though she did walk across the living room, about 10 steps, but only once! I am happy that she is learning but I get a little sad that I am losing my little baby.
She has adjusted to us so much that people can not believe that we have had her less than 3 months. She gives hugs and kisses to Jon and I, in the mornings when we get her up she greets us with a great big smile, and when Jon come home from work, Natalie's face lights up and she crawls as fast as her little body can take her over to him. We have a really Daddy's girl on our hands. It's so cute!!!!!
Tonight, Natalie was cruising around the furniture and she was getting into stuff that she wasn't supposed to and I told her no and tried to move her away. She stepped back and stomped her feet and began to yell! We had our very first temper tantrum!!!! Sorry to say, Mommy and Daddy had to hide the chuckles behind their hands. The first time was cute but I know that any following tantrums won't be so cute.
We had 2 baby showers, one given by co-workers of Grandma's and one given by Jon's co-workers. They were really nice to do that for us. We got a lot of really nice things for Natalie. One of the doctors that Jon works with brought white fabric squares and fabric markers and the guests drew pictures on the squares. Dr. Lucy is going to put them into a quilt for Natalie. I can't wait to see the finished quilt - it will be so cute. I will post a photo of it when it is done.
I will add some more photos soon. I got some of Natalie trying to walk.
5/23/06
Life has changed so much for us. We can not remember what life was like before we got Natalie. She seems as though she has always been a part of us.
The past few weeks have flown by. Natalie, Daddy and Mommy are settling in and adjusting to the changes that come with being a family. No more sleeping til 10am on the weekends. But it is so wonderful to wake up and see such a sweet face smiling up at us!
Natalie turned one on May 17th and I can honestly say that I am not ready to have my 'Baby' grow up. Natalie is just about ready to begin walking, she has been cruising around the furniture for weeks and once she gets up the courage to let go....she'll be off and running!
Sunday, May 21st, we had Natalie baptized at St. Isidore's Catholic Church. It was so beautiful. She was squirmy during Mass but while we were waiting for the priest to get ready for the christening, she fell asleep. Natalie slept through the entire Baptism - even when he poured the Holy Water over her forehead! Fr. Pamment said that he had never had a baby sleep through the entire ceremony. Her Godmother is Nancy (Clark) Koluder, my best friend since high school and her Godfather is Mark Ragsdale, Jon's best friend. After the ceremony we went back to Grandma's house for lunch and cake. It was a great day!
4/11/06: My experiences in China (or what the agency doesn't tell you)........ When you receive your new child, who has already formed definite opinions on her likes and dislikes, DO NOT try to impose your will on her! If she is eating, and enjoying fish-flavored rice cereal, do not try to make her eat apple-banana rice cereal and get frustrated when she screams! RULE #1 - When you find something she likes......buy tons of it. Fish-flavored cereal must be a local Chongqing taste sensation because when I ran out in Guangzhou I could not find it anywhere!
The term 'Spicy Girl' doesn't mean she likes spicy foods (though we don't know that for sure). It means that when our little angel is unhappy, she can turn into a one red-hot chili pepper who will LOUDLY let you know her displeasure.
......................................................................
No matter how long you have dreamed of this wonderful event, there will soon be a day when you question your sanity and wonder what pre-menopausal senility possessed you to think that you could EVER want a baby. For me it was Day #2! Day #1 went so smoothly, with nothing but a happy, giggling baby that slept whenever I wanted her to. But on Day #2 the Spicy Girl reared her very vocal head. For some reason, I was not understanding what Natalie was trying to tell me. She would fling her tiny head back, scrunch up her sweet face and yowl as though I had dipped her in acid! She did not want to be held, yet she did not want to be layed down. No position was the correct one. This continued for what seemed like an eternity (really only about 30 minutes) until Daddy walked in the room to have this she-creature handed to him. OF COURSE ... she calmed down and went to sleep! I, on the other hand, was in the bathroom in the fetal position, sobbing and feeling like a total failure as a mother. "How could I have thought I could do this? I am too old for this! How could I take this child from her homeland and force her to accept me? Why did I go to the other side of the planet? I miss my home! I miss food that I can identify! How could I possibly be a good mommy if I feel like this?"
OK, they do not tell you that you can expect a total meltdown. You are told that the baby will have "attachment/grieving issues", but not the mommy! I was fine the next morning and have been ever since. But I was totally unprepared for mommy overload! So, RULE #2 - Prepare yourself for the inevitable meltdown. You are human and it is normal.
..............................................................................
People are people no matter where they live. In Chongqing, we met some of the friendliest people in the world. They would come up to us and want to know all about us and our babies! Our guide, Rui, gave each family a lanyard with an explanation of why we were in China with this little baby girl. We would show this note, and the peoples faces would light up, they would give us thumbs up and pat the baby's face. On dear old woman, when she read the words, began to cry. She made us promise to take care of Natalie and to love her always. We told her that we would encourage our daughter to learn as much about her heritage as she could when she gets older. That we wanted her to always remember the land of her birth. Through her tears, she smiled and then with a very sad look, turned and walked away. It nearly broke our hearts to see this woman, a complete stranger, so broken up. She was not angry with us, she was sad about the whole idea of all the abandoned children in her country. RULE #3 - People are wonderful the whole world over.
..............................................................................
Air travel is not for the faint-of-heart and going 'Carry-On Only' is fine on the way over but once you get the baby......it's not only impossible - it's insane! Every flight we took (all 7 of them!) were fully booked. And 'economy' class really means 'CATTLE'. Try to navigate down the narrow aisles of a crowded plane with a over-stuffed diaperbag/backpack and a carry-on suitcase. It's funny only in hindsight! I traveled to the other side of the world and back with the backpack wedged between my feet. Once down there, you had better not need anything from it unless you are made of rubber and can twist your body into a pretzel. We ended up having to buy 2 additional suitcases (another carry-on size and a HUGE wheelie one. Cost about $15 each) Because of the additional luggage and a baby walker, we were forced to check our bags! Oh my GOD!!!! I felt like skipping down the aisles. Even with the baby, it was like heaven. OK, not really, but you get the idea. RULE #4 - When travelling with a baby, Business or First Class is a sanity MUST! But since it is not financially possible, travel lightly and check everything! If it's bigger than a breadbox, LEAVE IT HOME!
..............................................................................
The last thing I learned is.......JetLag really does exist and it will knock you loopy for at least 3 days! Since we are on Day #4 at home, I may only think that I am making sense!
This was the trip of a lifetime and I will cherish it's memories always! I met many new and interesting people and shared some of the most important moments in my life with a group of families that I truly feel blessed to know and love. Jon and I expanded our family, not only by one little girl, but by all the wonderful people that we shared this adventure with.
4/8/06: We are finally home! Sorry for the lapse but it was expensive to get access in Guangzhou. But, better late than never - right? The flights......well, we'll talk about THAT later! Natalie is prefect! She is now an American Citizen. When we touched down in Detroit, she became official. What a relief, all went smoothly and actually quite quickly. Customs and immigration lines weren't that bad at all.
All I have to say is....Dorothy from the 'Wizard of Oz' had it right. There really is "no place like HOME!" China is a wonderful place to visit, but our hearts belong to Michigan and the US of A.
It is 6:03 am - EST Saturday morning and 7:03 pm, Saturday evening - China time. We've slept about 2 hours since we got up at 5:00 am Friday (China time). Can you say - Jet Lag! Natalie is sound asleep and Jon and I are rearing to go. Our minds are going a mile a minute.
Our trip was a blur of activities, tours and lines. The day we got Natalie was like walking in a dream. We flew from Beijing to Chongqing, arrived at the hotel and had to leave right away to go get the babies. When we arrived at the Civil Affairs Office, there were babies in walkers everywhere. Jon said "There's Natalie!" The next thing I knew, we were walking over to our daughter, she was in my arms and time stood still! I can not say how long we stared at each other, but she acted as though she had known us all her life. (We had sent a photo album to her orphanage that we hoped the nannies would show to Natalie.) By her response to us, we believe that they must have shown her our pictures often, because she seemed to have recognized us. Natalie did not cry or act scared, she smiled, laughed and play silly baby games with us while we waited for her paperwork to be processed. When we left, in the eyes of the Chinese government, we were a family!
I will continue with our journey later, we need to get some sleep while the baby sleeps or not sleep at all. So have patience with me.....more to follow soon.
4/2/06: Today we went to the zoo. We got to see panda bears and tigers. There was also an art gallery that had local arts and crafts. After the zoo we went to Walmart. Yes that Walmart. The only difference between Walmart here and Walmart in Lansing was the smoked pigs head at the entrance. Yesterday we went to a flea market. It was cool, but the people looked at me funny when I started taking pictures of the cute dogs and cats that were sitting out in front of the food booths. I didn't realize until later that they weren't pets.
Natalie is doing great! She has an amazing sense of humor. Plus her favorite game is to be thrown up into the air. Tomorrow is a day off. We are going to hang around the hotel and do nothing.
3/31/06: Todays dinner was just a bit different than last night. Our guide went to PIzza Hut and brought back WONDERFUL american pizza. It made me home sick. Natalie is doing much better today. She has been smiling and laughing. Plus she is full of energy! She loves to walk in her walker. She also spent an hour staring at herself in the mirror. She is just such a sweet, wonderful baby. I can't wait until you all get to meet her. Tomorrow we go to the old part of Chonqing to go shopping. The guide says that this is where you get everything dirt cheap. We still can't go anywhere with out drawing a crowd. This bothers some of the families, but I think it is cool. Our guide gave us these little signs on lanyards. They tell who we are and why we are here. So when I gather a crowd, I just let them read the sign. They all smile and clap and tell us how happy they are that the baby will get a chance at life. I then tell them that we are the lucky ones to get such great and beautiful babies.
Sue and my mom are doing great. They went shopping at the mall near by today. The malls here are no different than the malls at home. It's strange to be half way around the world and see the same displays, brands, and products as you would at Meridian mall.
Well it's off to bed. I think that it is about 9 am friday at home. Here it is 10pm Friday.
3/30/06: Hello everybody!! We are doing great. Natalie is a little grumpy today. We tried to change her food. She let us know in no uncertain terms that that was NOT OK!!! Tonight for dinner I had a traditional chinese dish called "Hot Pot". With the emphisis on HOT. It nearly made my eyes bleed. Imagine a mystery stew with many unidentifiable slimy things floating to the surface and you will have a clue of what it was like.
Tomorrow is a day off. We are just going to hang out in the hotel. Then on Saturday we are going shopping.
3/29/06: WOOOOHOOOOO!!!! We have our baby!!!!!!!!!!!!!!!!!! We had fun in Beijing. We visited the Great Wall and the Forbidden city. The funniest thing was the Star Bucks inside the Forbidden City. 1000 year old royal city and they have a Star Bucks. Flew into Chongqing yesterday. Checked in to the hotel, then went to the civil affairs office and picked up Natalie. It was AWESOME. We filmed the whole thing for everyone to see!! Sorry no pictures yet. I (Jon) am using the hotel computer and can't down load them. Today we went shopping. Wow. Everywhere we went a mob of people followed us talking and pointing! 99% seemed very happy that we were adopting the little girls. People come up to you in the street and scold you if she is sucking her thumb or if her legs are showing. Its 75 degrees and the locals have their babies in snow suits and hats.LOL. I hope everyone at home is well. I also hope you enjoy reading this as much as I do writing. We will post again soon!!!
3/27/06: Hi from China. We made it to Beijing last night at about 9:00pm. Flights were LONG!!!! We are great! Will post more when I have more time.
3/25/06
It's 4:00am and we are leaving in about 30 minutes to pick up Jana (Jon's mom) and head to the airport. Sleep was out of the question, too much nervous energy. But hopefully, we'll be able to sleep on the plane.
If I can figure it out, I will be posting pictures, just click on the Photo link on the home page.
Please say a little prayer that we have smooth flights. I HATE to fly but since that is the only way to bring Natalie home, I guess I have no choice. The next time you hear from us, we'll will be on the other side of the planet!
3/21/06
We have our plane tickets in hand and are anxiously waiting for Saturday when we head to Detroit to begin our 18 hour journey to China. We have plane changes in Minneapolis and Toyko. We should get to Beijing on Sunday at 8:15am our time. Since it will be 9:15pm there, I will try and post to let you know we got in ok. Unless I fall asleep as soon as we check in. We are staying at the Sino-Swiss Hotel in Beijing.
3/14/06
This morning we were informed by our agency that our US Consulate appointment is for Wednesday, April 5th at 10:30am. We are awaiting confirmation from the travel agent, but tentatively, we are leaving on Saturday, March 25th. They will place Natalie in our arms on Tuesday, March 28th (14 days from today!!!). And we will be able to leave China on Friday, April 7th.
I can hardly believe that after nearly 2 years, we will finally have our precious daughter in our arms ....... forever!
3/13/06
We have received our Travel Approval from the Chinese Government!!!! Now all we need is our American Consulate Appointment and we can go get our baby!!!! We should know when we get to go by the end of the week. If our agency gets the consulate date that they asked for, we may be leaving for China on March 19th!!! Keep your fingers crossed.
3/3/06
When a child is found, the officials the that town place the child's photograph in the local paper in an attempt to locate the child's parents. If no one comes forth, the child is then taken to an orphanage to wait for an adoptive family. We were able to locate our daughter's finding ad. She was just 3 days old when she was found and thankfully we now have a photo of her at that age. That new photo means a lot to us because it gives us another link in the puzzle of her past.
We received our Visas from the Chinese Consulate in Chicago, so we are just about ready to go. The last thing we need is what is lately being referred to as the "Golden Ticket" - our Travel Approval. This is a document that gives us approval to come to China to adopt our daughter. We were told by our agency today that CCAA is planning on mailing out the TA's next week! Keep your fingers crossed that it makes it here safely. The last batch of referrals sent from CCAA were lost in the mail!!!! I pray that they are found soon - the waiting families must be frantic!
2/15/06
Tomorrow, Thursday, Jon and I will take the Amtrak to Chicago. We are taking our's and Jana's passports to the Chinese Consulate to get our Visas. We will need visas when we travel to China, hopefully, next month! We should get them back next week. Woo-Hoo!! One small step towards bringing our daughter home.
I have also began making arrangements to have Natalie baptized. And talked to the pediatrician about getting her in for her first check-up. Oh my God! I'm becoming a 'Mommy!'
Check out the Photos section - I added some pictures of Natalie's nursery. I'll add more pictures later.
2/6/06
The rollercoaster continues! We were told that the hardest part of adoption comes AFTER you receive your referral. I thought that there was no way.......waiting for our referral was so hard! But, unfortunately, it's true. Once we saw our darling Natalie, the aching got so many times harder! Her picture is on the wall above the tv, the focal point of the living room. We see her sweet face, but long to hold her in our arms.
I charted her height/weight on a Chinese growth chart. Natalie is in the lower 10% for both height and weight. But that is normal for her area of the country. Babies from there seem to be more petite. Healthy but tiny. She was 6.6 lbs and 19 inches at birth. And it looks like she will be 15 lbs and 26 inches when we get her at 10 months old. I'm planning on taking 6-9 months clothes for her. If those don't fit, I'll just pick up something for her while we are there. Where we will be staying, there is a huge shopping center right next door! Convenient - huh?
It was so much fun updating our registry at Babies r Us. When I first registered, I didn't know how old Natalie would be. Now that I do, there were a lot of things that I hadn't thought I would need. We were prepared to receive an older baby, about 18 months old. It was such a pleasant surprise to find out that she is so young. Even though we were told that she is crawling, there is a good chance that they were being generous. Natalie is spending most of her days in a walker, so she does not get a lot of 'floor time' needed to learn to crawl. Once we get her home, she will progress in leaps and bounds!
Her nursery is just about finished. It is so cute. I will post some pictures as soon as I get it done. The clouds on the walls look pretty good - if I do say so myself. And I put butterflies, dragonflies, bumblebees and flowers floating through the clouds. It's like walking through a park when I enter the room. I think Natalie will love it in there. She better, cuz I'm not changing it for quite some time. Ha-Ha.
Even though we don't know when we are going to travel, I have been packing and unpacking. We are only taking one carry-on for each of us and a diaper bag for the baby. Picking the right things are very important since we will be limited in what we can take. I prepacked my carry-on last night and it worked out great - even with the few things left over for the baby. Jon will wait until the day we leave and throw a few things in his bag and call it good. He's not as fussy as I am. Probably why he is a lot calmer about the trip than me.
1/26/06
This has been the wildest 24 hours ever! We were awake at about 8am and of course the pacing began! We received word from our agency that they expected the referrals to arrive around noon their time, 1:00pm our time. At 2:00pm, we received an e-mail from them saying that the delivery was delayed and that they expected it to arrive in about an hour! At 4:00pm, we got the e-mail that our referral had just arrived!
We got our "CALL" at 4:53pm. When the phone rang, Jon & I just looked at it. Neither one of us could move. Jon snapped out of it first and answered the phone. I got on the other line as soon as I could figure out how to turn it on!!!!
Krista, from our agency, said Congratulations! You have a daughter! She told us her name and age. Then she said she would e-mail us her picture. We opened the little picture, all we could say was "Oh my God! She's BEAUTIFUL!" All three of us were crying. It is a moment that Jon and I will never forget.
One of my on-line friends that is with our agency and received her referral yesterday too was at our agency and took a photo of Krista calling Jon and I. Here is Krista of Great Wall China Adoptions, she is on the phone with us telling us about our daughter.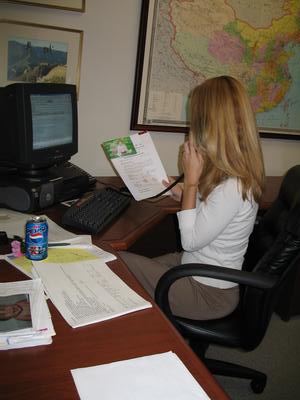 Krista telling us that we have a daughter.
The rest of the day is pretty much a blur. We sure slept good, once we settled down and could get to sleep.
1/24/06
Wow!!! What excitement! Jon and I are beside ourselves waiting until tomorrow. I hardly slept last night. Yesterday I made Jon a 'Stork is coming!' cake to celebrate.
This morning we received an e-mail from our agency saying that there are 41 girls and 3 boys in this referral group and they are all coming from south eastern China. The breakdown is: Guangdong (7), Guangxi (3), Chongqing (7), Jiangxi (6), Hunan (13), and Zhejiang (8). Our daughter is living in one of these provinces and we will be travelling there to pick her up. We were told that we will most likely leave to go get her March 9th. Can you believe it? I can't.
There is so much to do.....I feel like this has all come as such a surprise when actually it has been coming for almost 3 years! And I thought I was ready!!!!! HA! The nursery is just about done, still have stuff in boxes that need to be put away. I registered at Babies R Us, Target and Baby Depot, but will have to update it as soon as we know how big she is. They say that babies from the southern regions are tiny!!!! We will know tomorrow!!! Oh My GOD!!! And do you think that I will sleep tonight?
Ok, Ok, time's running out and I need to get in gear. So, I will sign off until tomorrow...........
1/4/06
I hope that everyone had a Happy New Year. Jon and I had a quiet holiday. In December, we were told by our agency to expect our referral the first week of the new year, but for some reason that has yet to be explained, the referral cut-off was April 25th. Our LID is April 27th (that is the date that our dossier was logged in at the China Center of Adoption Affairs). Needless to say, we have been on pins and needles, waiting for even the tiniest bit of information. We are praying that CCAA sends out another batch of referrals before they close to celebrate the chinese new year. They will be closed for at least a week, beginning on January 29th. In the past they have not sent referrals out during February, so it could now be March before we know anything!
I have been trying to keep busy, and I did manage to finish the 100 wishes quilt that I started for Natalie many months ago. A 100 wishes quilt is a quilt that is made up a fabrics that have been sent along with a slip of paper that contains a wish or good thought for the baby. I put all the wishes, with a swatch of the fabric that came with it, in a scrapbook so that Natalie can look back someday and see all the good thoughts and wishes that were sent for her new life. I have put pictures of the finished quilt on the "Our Family" page.
11/30/05
We received an update today from our agency. We are not in this batch of referrals but..... We WILL be in the next batch expected in mid-January! So, even though the news today was not what we were hoping for, at least we do know that we are NEXT!!! Wow - it feels great to say that.
11/16/05
Today we got word from GWCA that we are "officially" in the Matching Room!!!! The e-mail also said that the next batch of referrals are expected in December. We are praying that we are included in that batch and not split into the following month. Please pray along with us that we get the most special Christmas gift imaginable - our precious daughter! Though she won't physically be home with us, she is in our hearts. But it would be so nice to have a little picture to love.
10/28/05
Looks like we won't know anything until the end of November or December now. Referrals seem to be slow coming out of China. But wouldn't it be nice to travel around Chinese New Year? A whole country celebrating while we are celebrating our new daughter.
Well.......I'll post more if and when I hear anything.
9/26/05
It's getting closer!! We are starting to get really, really excited!! The rumors are flying as to WHEN the wonderful news will come. It could be next month, it could be November. Please keep us in your prayers as the time draws nearer. We need extra doses of faith and patience!
9/14/05
When I got home from work yesterday, Jon told me that he decided on our daughter's middle name! We had decided on her first name but hadn't picked her middle name yet. Well, now it's official!!!!
Natalie Jade will be the newest member of our family!
Our referral is getting closer, we are next in line to go into the referral room. Looks like late October, early November til we get a photo of our little angel.
I have all the squares to Natalie Jade's 100 Wishes Quilt cut out and hope to begin assembling her quilt very soon. It should go smoothly now that I have decided on how I want it to look. I'll post a picture as soon as I get it done.
8/9/05
Well, we made our first big purchases for the baby!! We bought a crib and a stroller and Jon is suffering from sticker shock! We are working on the baby's room and will wait to assemble the crib until the room is ready. I have a bunny wallpaper border to go about half way up the walls. Then I want to paint the lower half light green and the top half pale blue with clouds. I have glow-in-the-dark stars for the ceiling. I bought pink gingham to make the cafe curtains. And I have been busy making crib sheets, blankets and I have 2 quilts to finish. Can you tell that I have been planning for a long, long time?
This Thursday, on August 11th, it will be one year since we starting this journey by going to Grand Rapids for a informational meeting with the rep from Great Wall China Adoptions. We have come so far and still have a great way to go. I just pray that our daughter is safe and well taken care of until we can hold her in our arms.
7/26/05
Hi everyone. I'm beginning to feel the excitement growing. Rumors on the internet adoption sites say that CCAA may be combining January and February LID's. That may mean that we might move ahead a month. We could be getting our referral as early as September!!! I guess there were not very many dossiers sent in February since the offices there were closed for the Chinese New Year celebrations for 2 weeks. That would mean only 2 weeks worth of dossiers.
I have been looking into the remaining balance of our adoption. I talked to a Great Wall agent that handles the travel arrangements, guides, international fees and monies paid in China. She gave me an approximate total of how much money we will be needing to complete the adoption. And she gave us some travel agencies that we can check out for good airfare prices to/from China. We looked into the Northwest Airlines special adoption rates, but they were higher than we wanted to go with, so we are still looking.
Other than that, we are still waiting, and waiting, and waiting.................